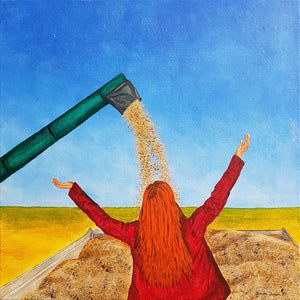 Harvest Day - Quality Print
Harvest Day - Quality Print on paper or canvas from an original painting.
One of the most wonderful moments of life in the country is harvest time. There is something of a childish joy and anticipation in watching a combine unloading the grains to a trailer. All the hard work, caring,  showing up every day despite of everything, is rewarded in that single moment.
Please choose your options at checkout.
PAPER prints sizes: 40x40cm or 60x60cm
CANVAS prints stretched on thick frame: 40x40cm or 60x60cm
If you can't find the size you are looking for, please contact me here beata.dagiel@gmail.com
Original Painting by Beata Dagiel