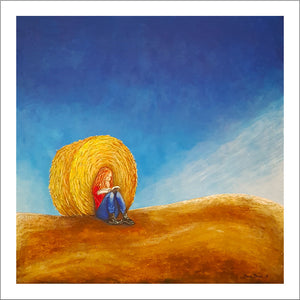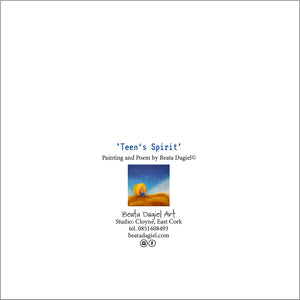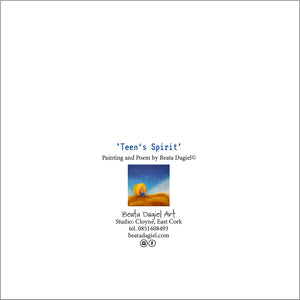 Teens Spirit - Gift Card
'Teen's Spirit' - square Gift Card printed with my original painting from a 'Country Gal' Series, includes a removable poem (see below).
Folded card to size 15 x 15cm (6x6")
Comes with an envelope.
Teen's Spirit is showing a teenager sitting by a hay bale and reading a book. She is not entertained by the surroundings anymore. Everything that excites her is in fantasy, books, movies, theatre, poems, stories. The places she wants to see are all but the one she is in. If only she could look around, you say... But she doesn't see, what you see. She won't settle until she explores all the wonders of this world, digests all possible feelings and emotions, discovers new lands, meets new people, and feeds her curious, unsettled mind with information. Let her do all that. Let her find the way. And she will find her way. Eventually.
Poem by Beata Dagiel
she's the smile
she's the question
she's the apple in his eye

dreams untrue
dreams so real
make her never think of you
strong as steel
like the Arc
when she sees the world ideal
it's her force
it's her spirit
she has not yet felt remorse
treat her kindly
give her love
she will follow the truth blindly