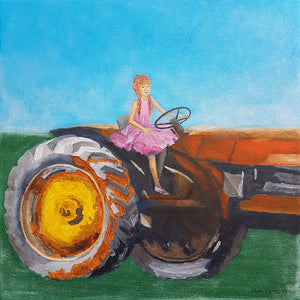 Farmers Daughter - Quality Print
Farmers Daughter - Quality Print on paper or canvas from an original painting.
If you grew up in the countryside you will probably relate to this picture of a girl helping out in the fields. This painting portrays the sheer fun and excitement of being brought up in the country. It is also a reminder of how entrusting kids with serious task empowers them and makes them feel worthy, strong and capable.
Please choose your options at checkout.
PAPER prints sizes: 40x40cm or 60x60cm
CANVAS prints stretched on thick frame: 40x40cm or 60x60cm
If you can't find the size you are looking for, please contact me at beata.dagiel@gmail.com
Original Painting by Beata Dagiel